Bellossom is full of spring cheer, flowers, and happiness. Crochet this pretty lady if you think you have a good enough green thumb. She's ready to add some positive happiness and cheer to your pokemon plush line up!

Prefer to use a paper copy? Purchase a downloadable pdf pattern here!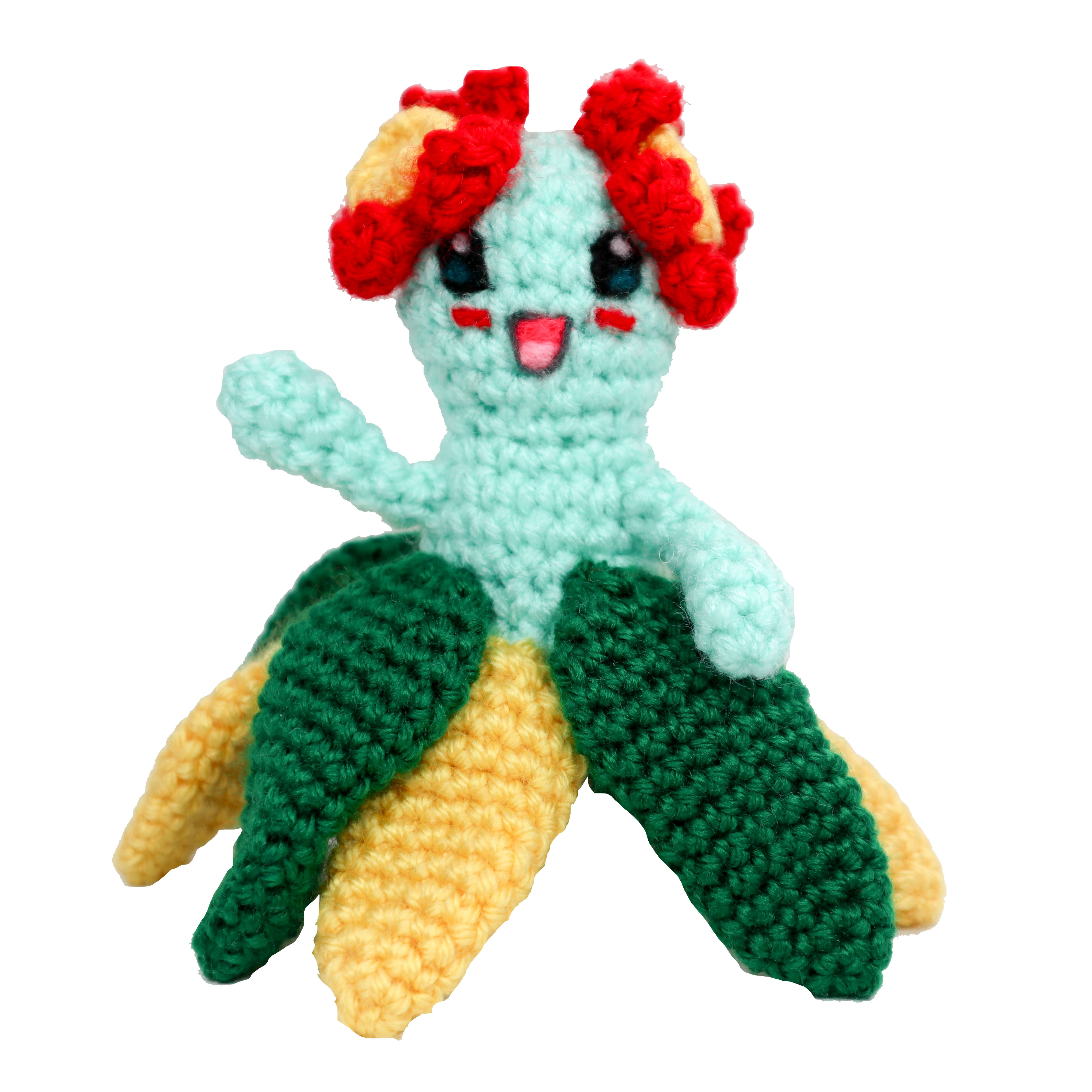 Materials
Yarn: Light green, dark green, yellow, red (light yarn was used for skirt, medium for body)
3.5 mm crochet hook – fiber-fill stuffing
Felt (black, white, red) felting needle and or/glue
Scissors, yarn needle for assembly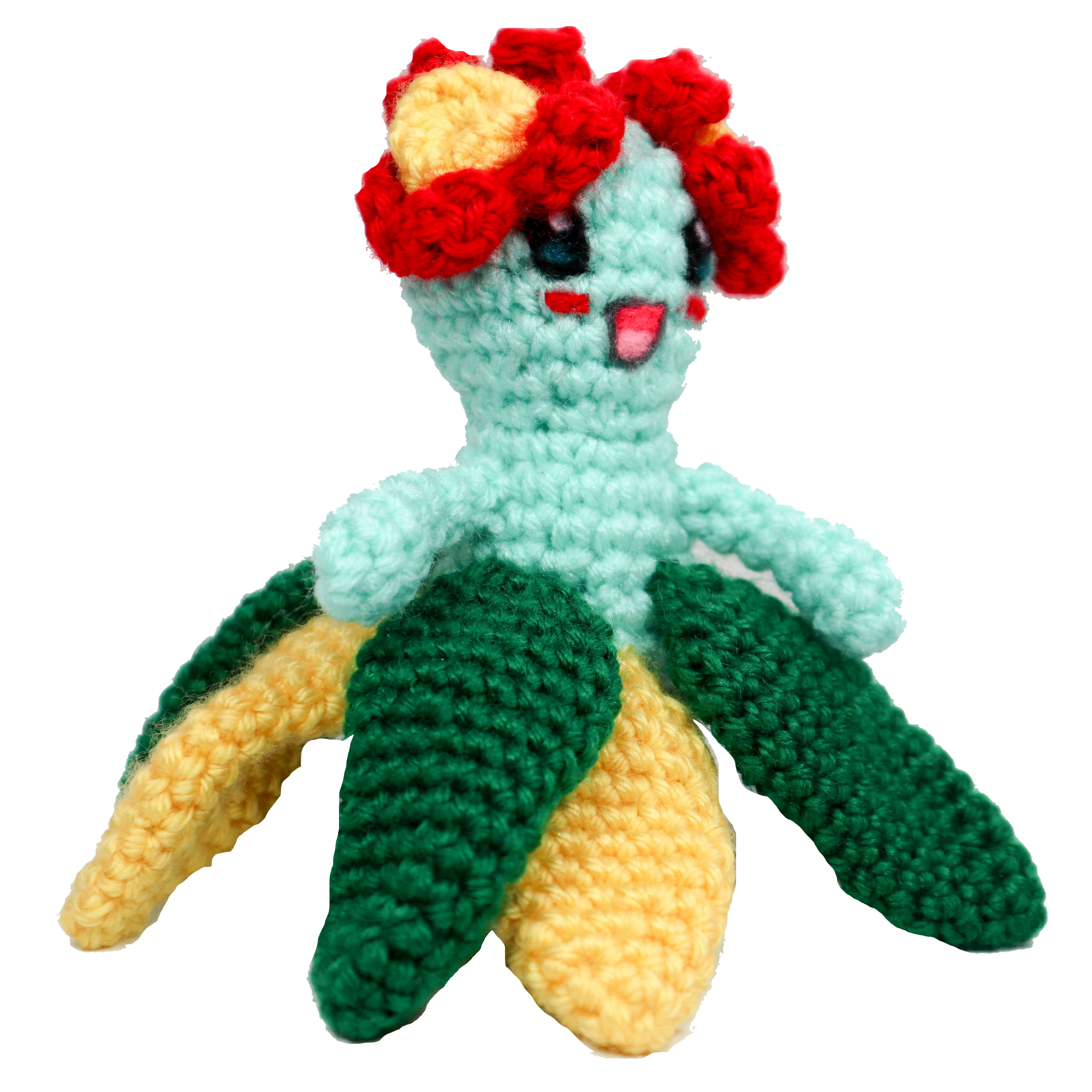 Abbreviations
R(#): Round number
MR: magic ring
Sc: single crochet
Inc: increase (2 sc in same stitch)
Dec: decrease (decrease 2 sc into one)
I recommend using Invisible Decrease
Dc: Double Crochet
Ch: Chain
f/o: fasten off
Check out my Learn to Crochet page for video tutorials on how to do the types of stitches listed above.
Additional Skills: Needle Felting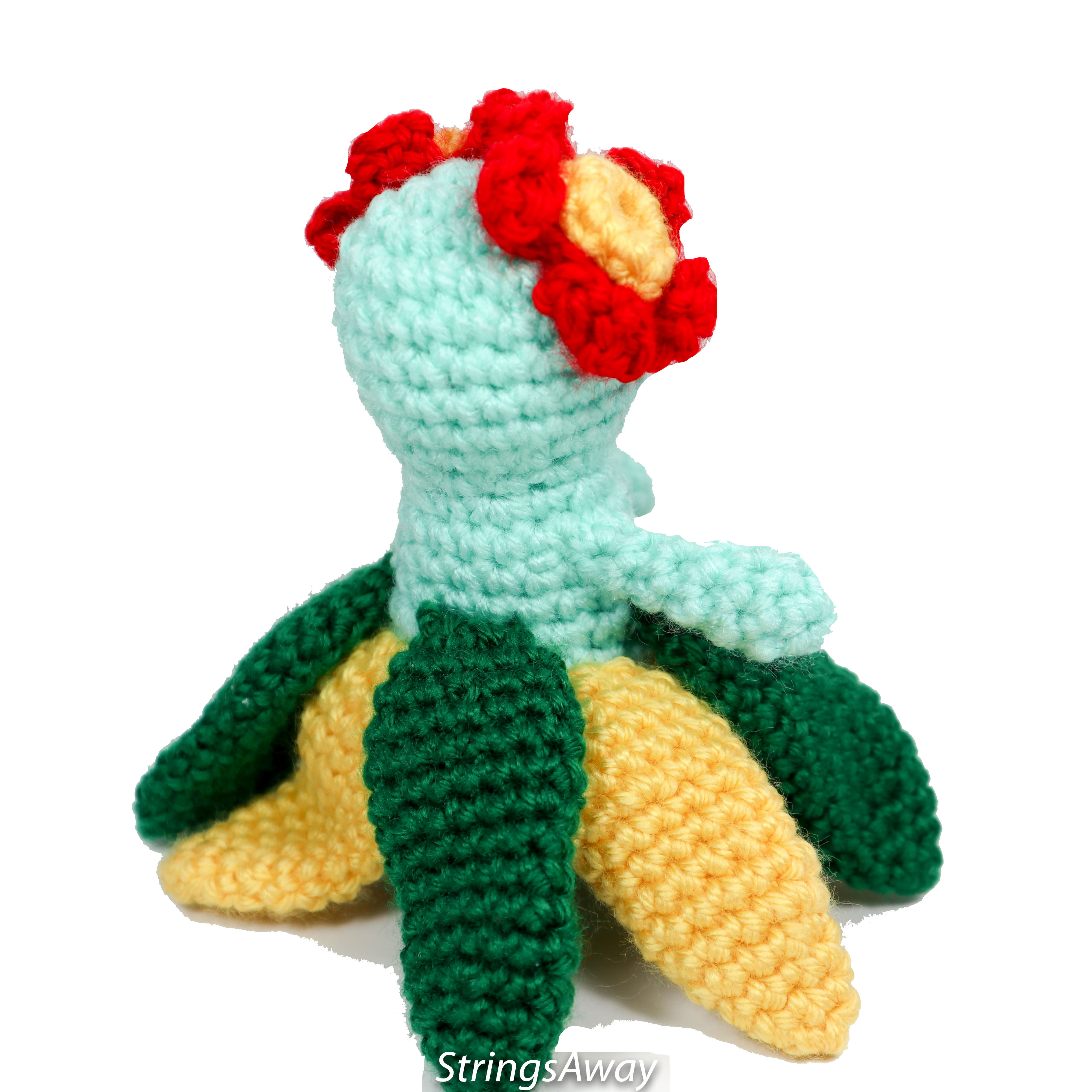 Head and Body
Using light green:
R1. 6 sc in MR (6)
R2. Inc around (12)
R3. Sc 1, inc around (18)
R4. Sc 2, inc around (24)
R5-R8. Sc around (24) four times
R9.  Sc 2, dec around (18)
R10. Sc 1, dec around (12)
R11. Sc 1, inc  around (18)
R12-R15. Sc around (18) three times
R16. Sc 2 inc around (24)
R17. Sc around (24)
In inner loops:
R18. Sc 2, dec around (18)
R19. Sc 1, dec around (12)
R20. Dec around (6) close hole, f/o.



 
Skirt Petals
Make 4 with dark green and 4 with yellow:
R1. 4 sc in MR (4)
R2. Inc, Sc 1 around (6)
R3. Inc, Sc 2 around (8)
R4. Inc, Sc 3 around (10)
R5. Inc, Sc 4 around (12)
R6-R9. Sc around (12) four times
R10. Sc 3, inc around (15)
R11-R12. Sc around (15) two times
R13. Sc 3, dec around (12)
R14. Dec around (6)
Do not stuff and squish flat. F/o and close.

Legs
Make 2. Using Dark Green:
Repeat as above (skirt petals) R1-R9 then f/o, stuff lightly.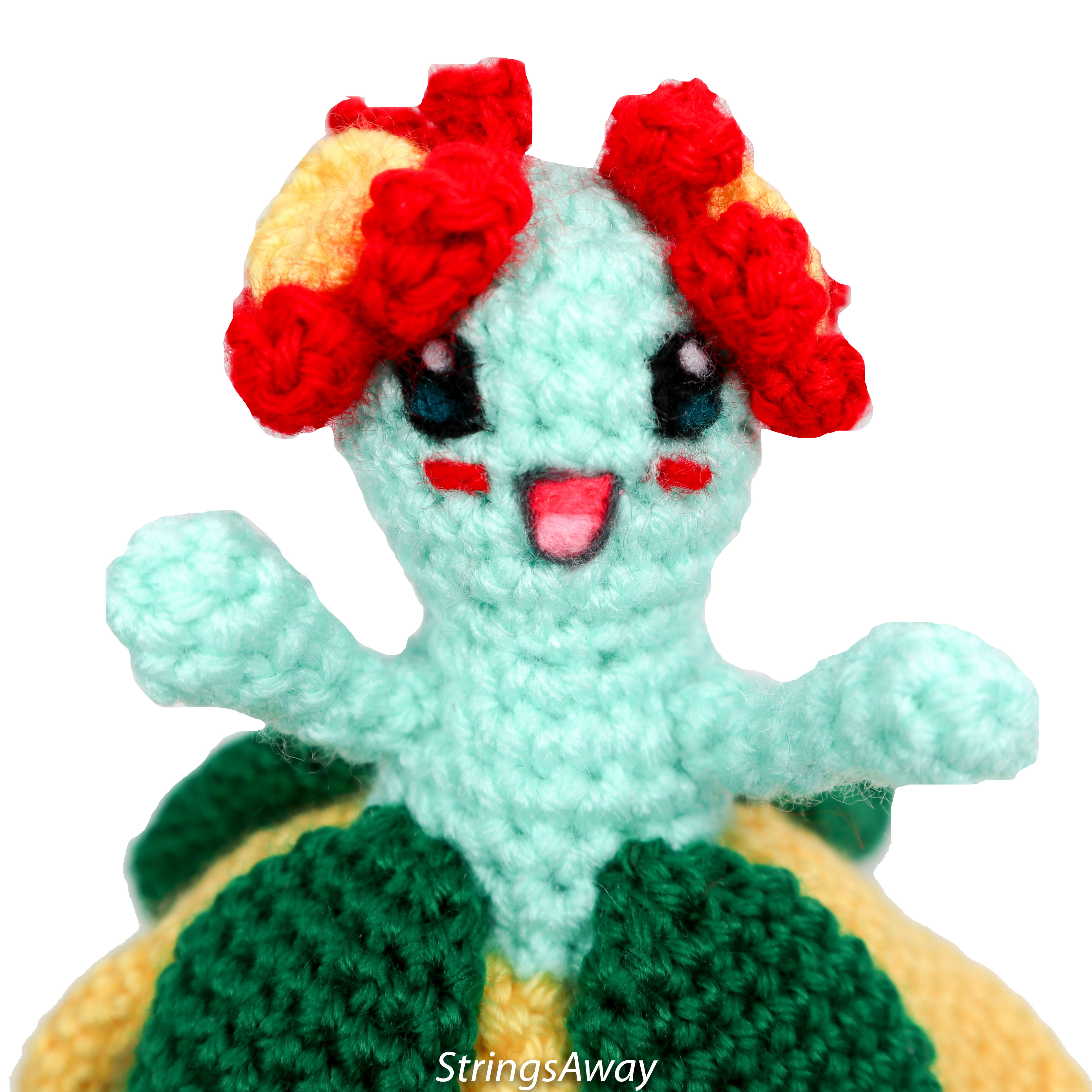 Arms
Make 2. Using Light Green:
R1. 5 sc in MR (5)
R2. Inc, Sc 4 (6)
R3. Sc around (6)
R4. Dec, Sc 4 (5)
R5. Dec, Sc 3 (4)
R6-R7. Sc around (4) two times
F/o and leave a tail for sewing.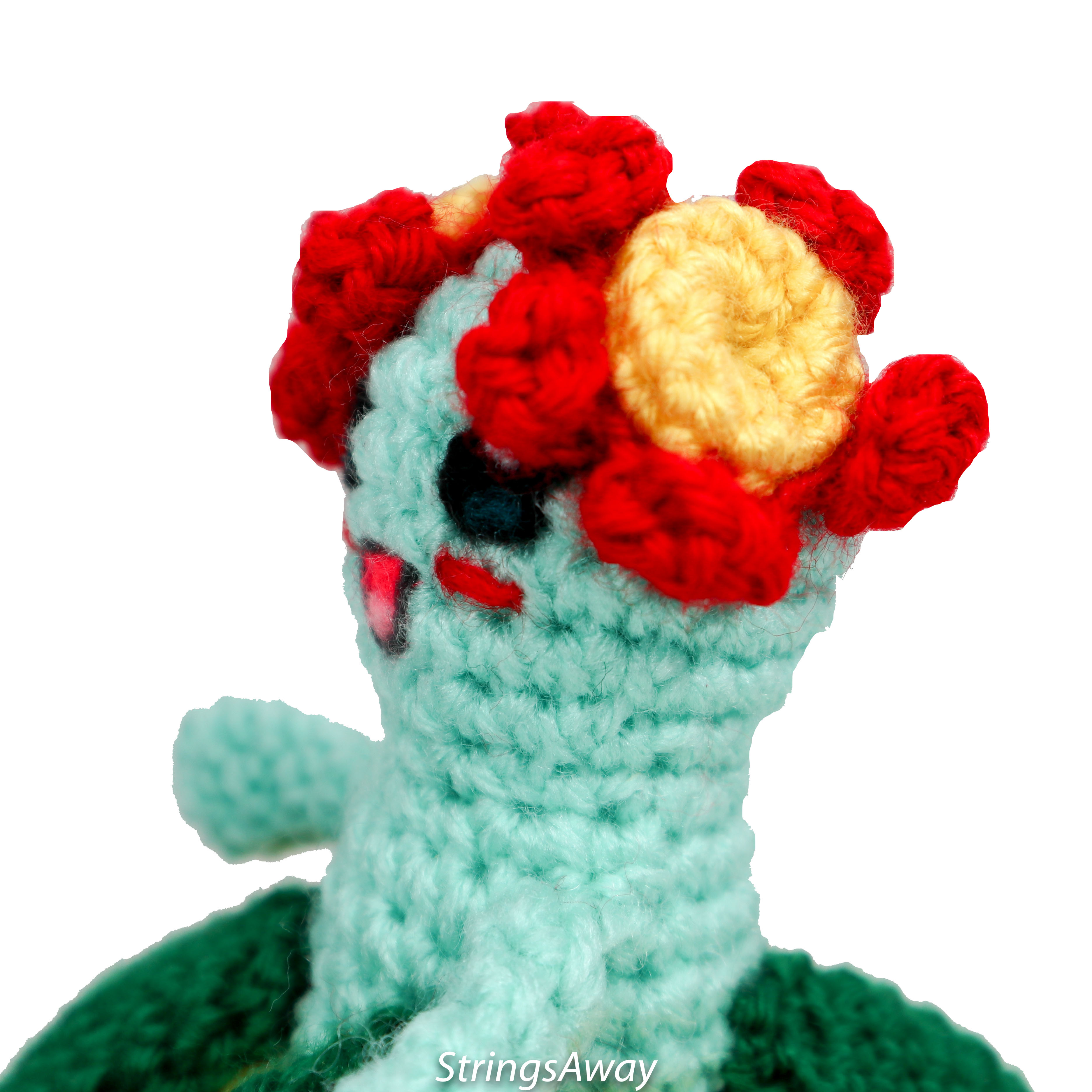 Head Flowers
Make 2. Using yellow:
R1. 5 sc in MR (5)
R2. Inc around (10)
R3-R4. Sc around (10) f/o.
Use the tail yarn to pull the center of the yellow flower inwards if desired to create an indented look instead of a rounded look.
Using red:
Sl st onto one of the 10 loops of the yellow base.
Chain 6, then working back along chain:
skip 2 chains (ie beginning on 4th chain away from the hook)
Dc, Dc, Dc
Sl st on next yellow loop of base.
Sl st to next adjacent chain on base and repeat above 4 more times to create the red petals.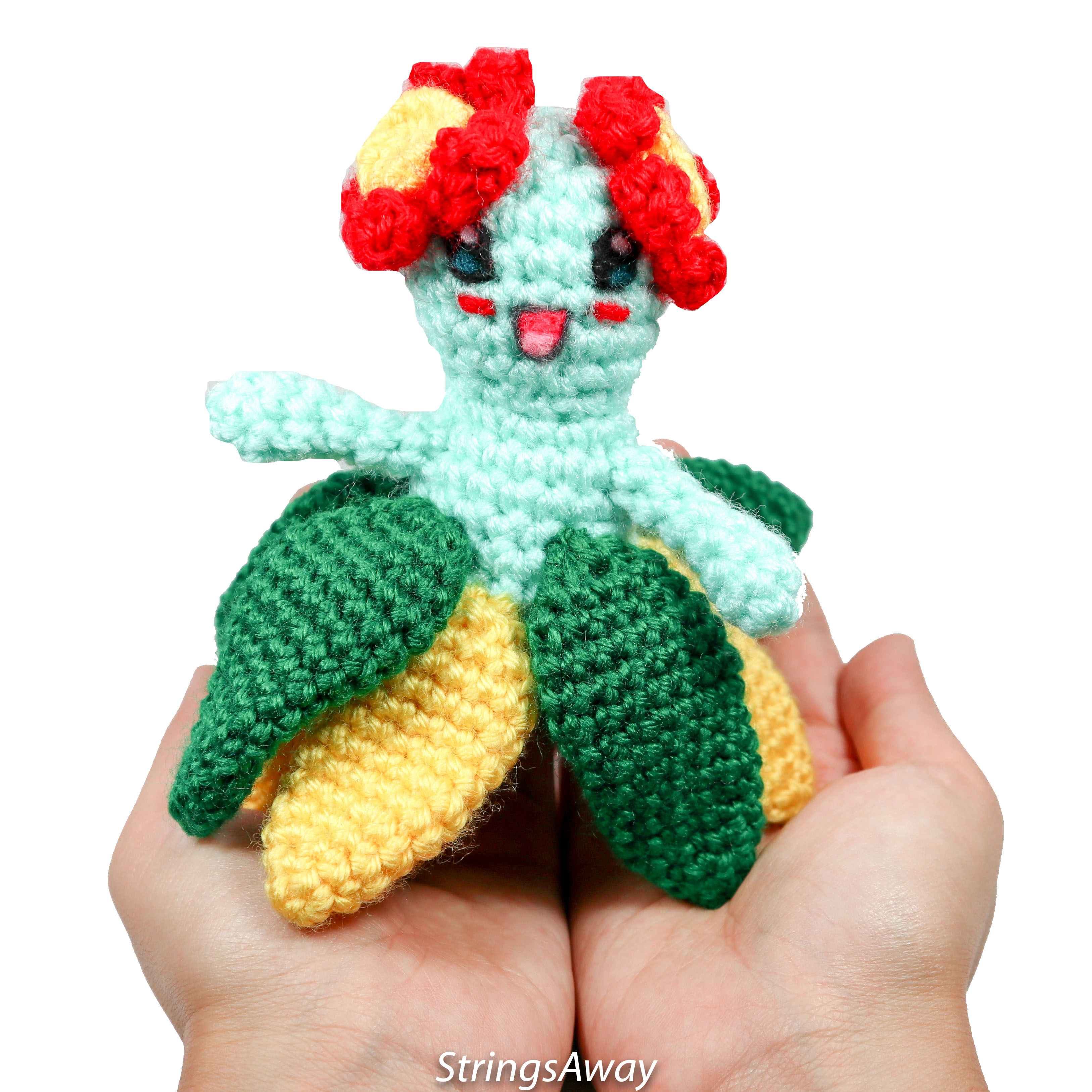 Assembly
Lightly stuff the Legs and sew directly onto the bottom of the body. Use pins to attach the 6 skirt petals as desired- alternating yellow and green. Sew the arms onto the body and the flowers to the head. Eyes, mouth, and cheeks were added using needle felting and embroidery.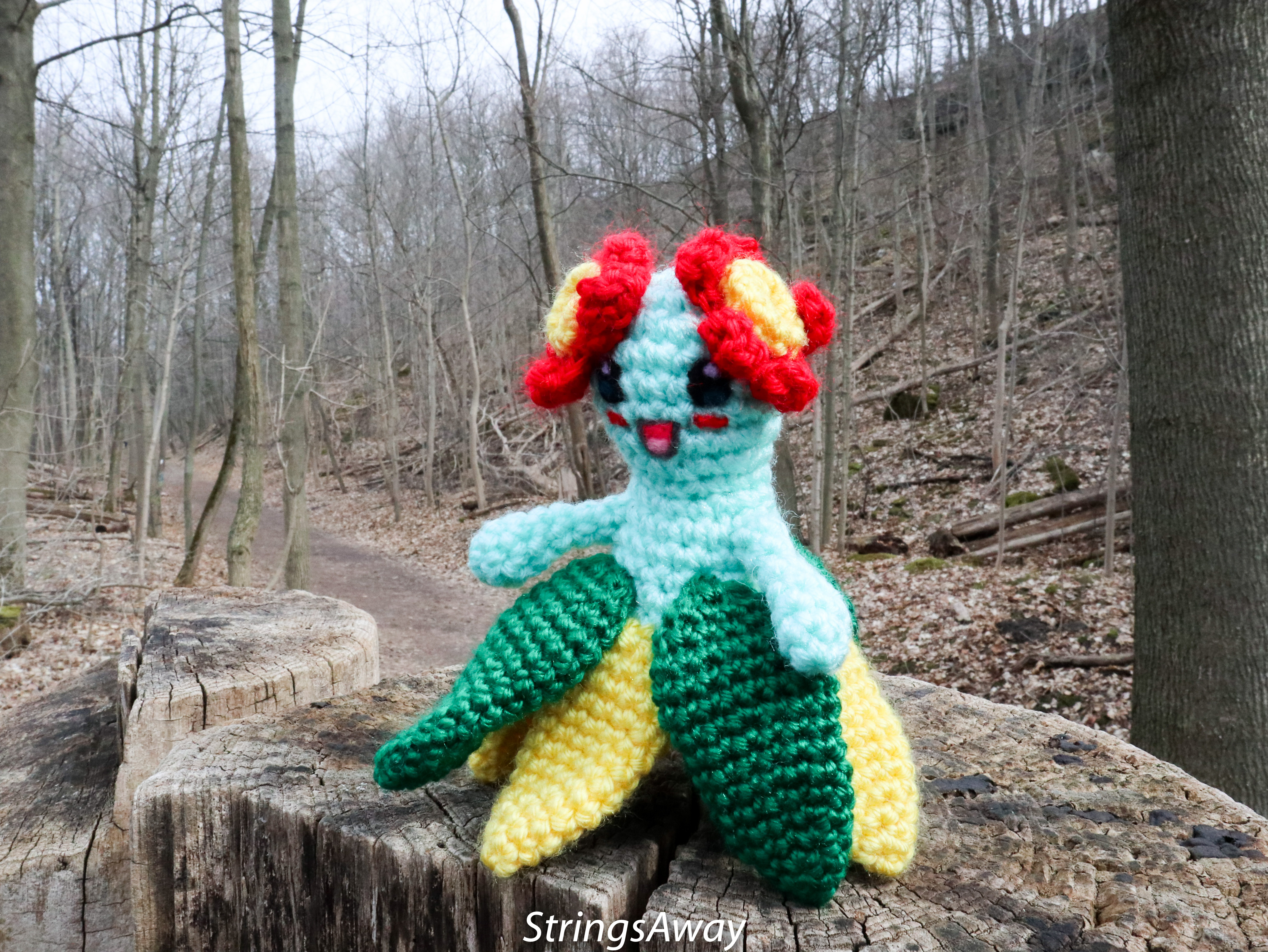 Bellossom attempts to encourage growth on these trees in early spring.

Thank you for trying this pattern – I hope you enjoy your Amigurumi Bellossom!

This pattern by StringsAway is for personal use only. Please do not sell or redistribute the pattern as your own.