Here is Haunter! One of the original 150 (erm 151) Pokemon who may be gone but not forgotten. Although he's a spooky ghost I think he's more of a practical jokester type rather than actually scary. Who could deny that mischievous grin? Crochet yours today! 
Prefer to work by paper copy? Click here to purchase a downloadable pdf version of this pattern from my shop!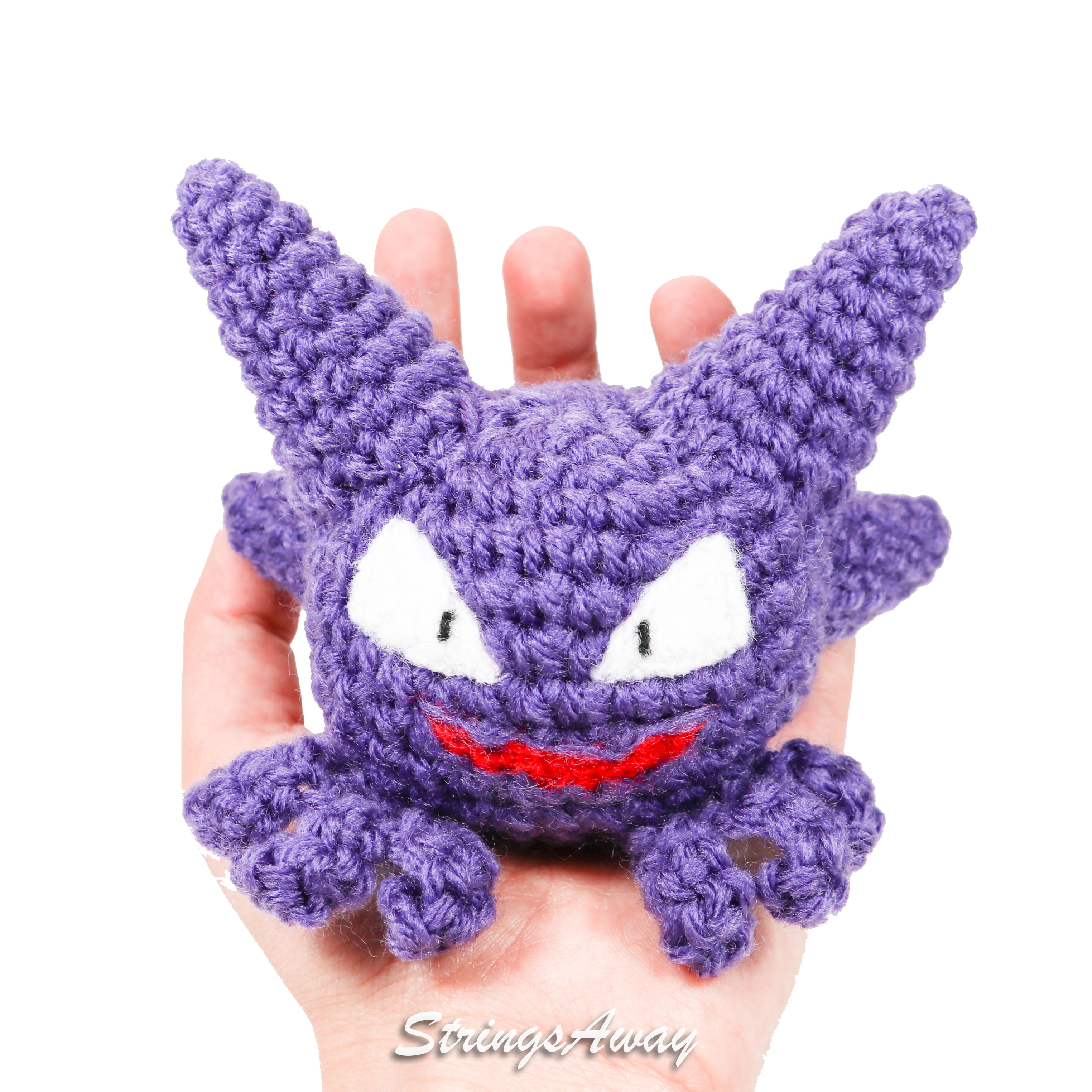 Materials
Yarn: : Purple (ply 4 was used)
3.5 mm crochet hook – fiber-fill stuffing
Felt: black, white, red for details (eyes, mouth), felting needle if desired
Scissors, yarn needle for assembly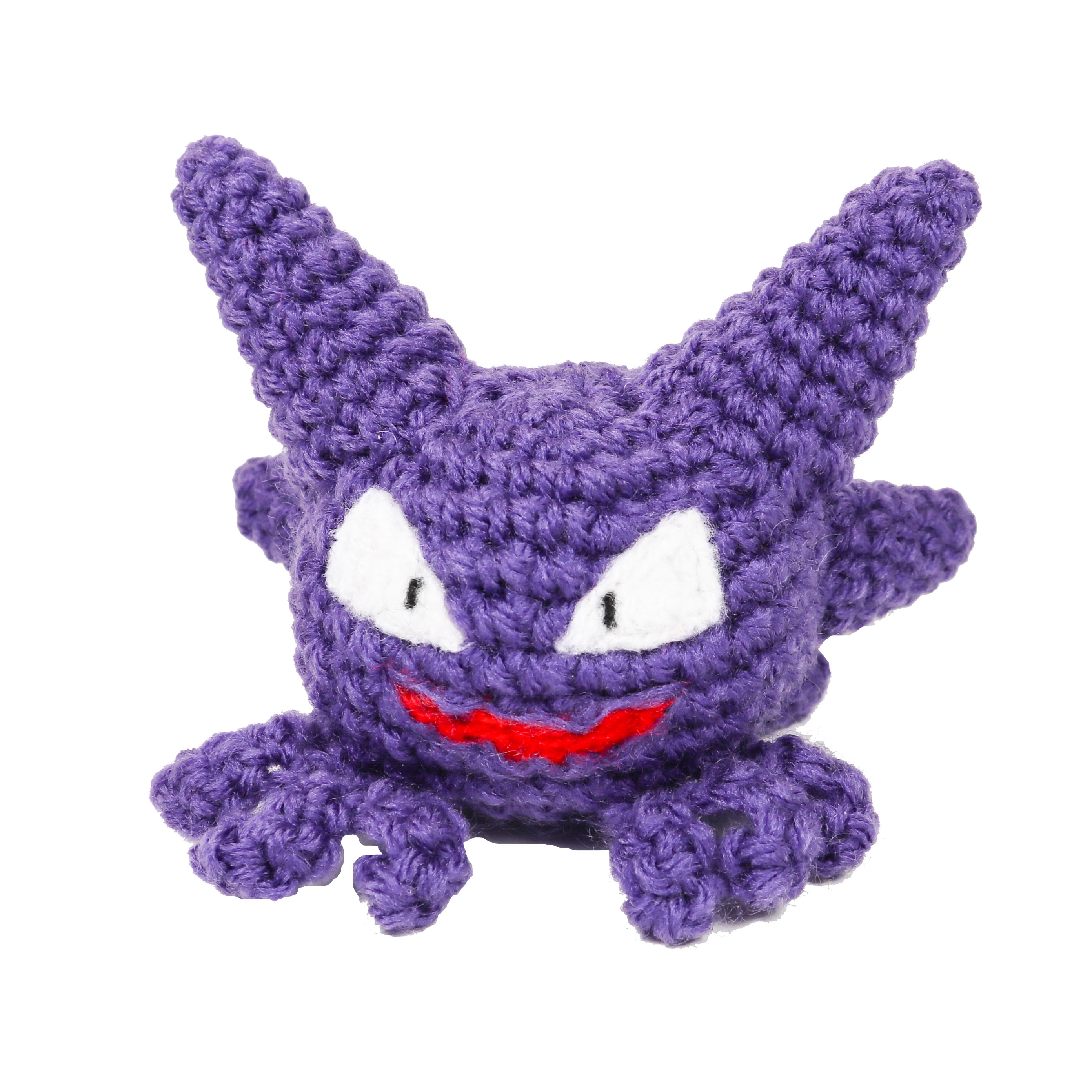 Abbreviations
R(#): Round number
MR: magic ring
Sc: single crochet
Inc: increase (2 sc in same stitch)
Dec: decrease (decrease 2 sc into one)
I recommend using Invisible Decrease
Ch: chain
tch: turn chain (chain 1 and switch directions)
f/o: fasten off
Check out my Learn to Crochet page for video tutorials on how to do the types of stitches listed above.


Body  
Using Purple:
R1. 6 sc in MR (6)
R2. Inc around (12)
R3. Sc 1, inc around (18)
R4. Sc 2, inc around (24)
R5. Sc 3, inc around (30)
R6. Sc 9, inc around (33)
R7-10. Sc around (33) four times
R11. Sc 9, dec around (30)
R12. Sc 3, dec around (24)
R13. Sc 2, dec around (18)
R14. Sc 1, dec around (12)
R15. Dec around (6) close ring and f/o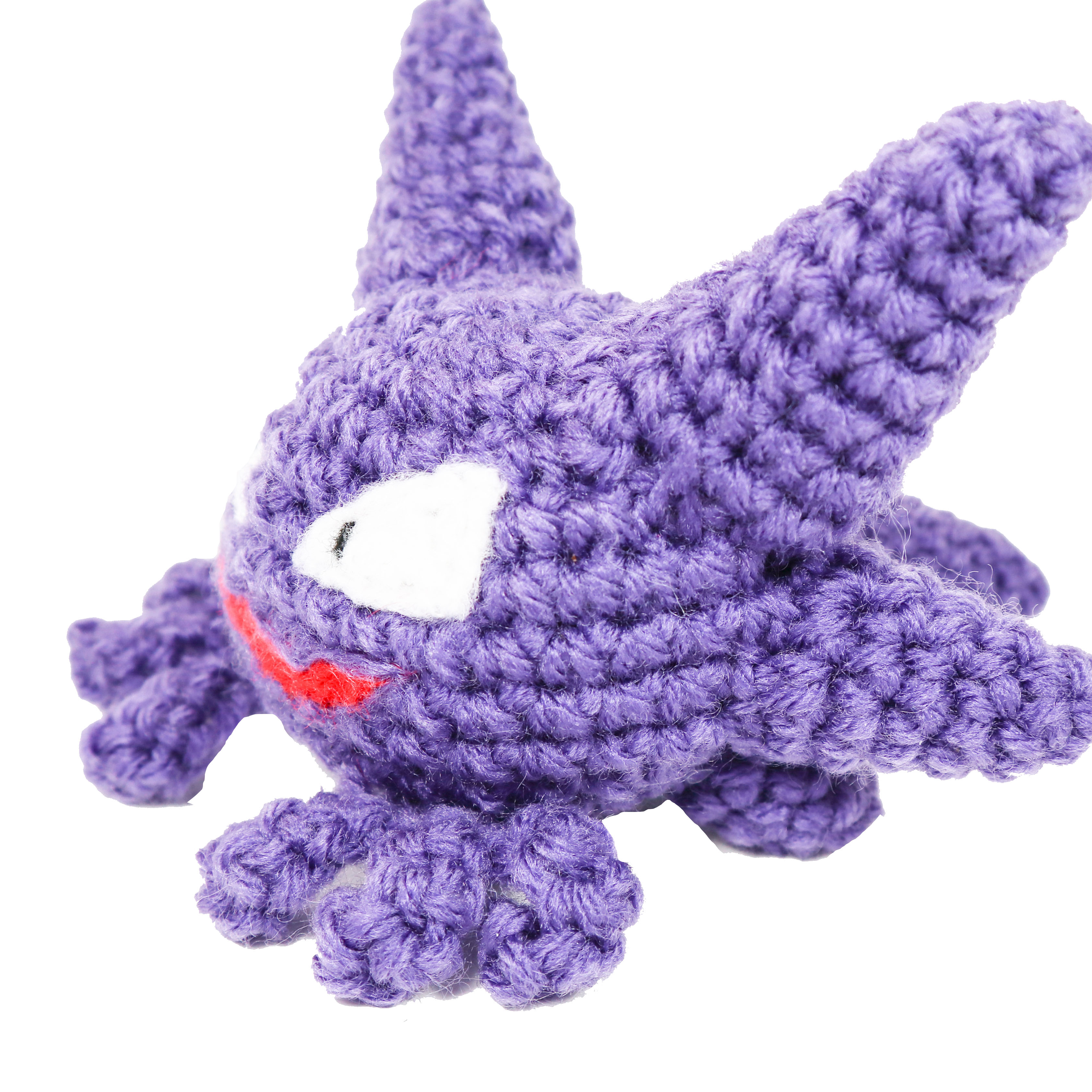 Horns 
Large Horns: Make 3 (2 'Ears' and 1 Tail)
Using Purple:
R1. 4 sc in MR (4)
R2. Inc, Sc 1 around (6)
R3. Sc around (6)
R4. Inc, Sc 2 around (8)
R5. Sc around (8)
R6. Inc, Sc 3 around (10)
R7. Inc, Sc 4 around (12)
R8. Inc, Sc 5 around (14)
R9. Inc, Sc 6 around (16)
F/o and stuff.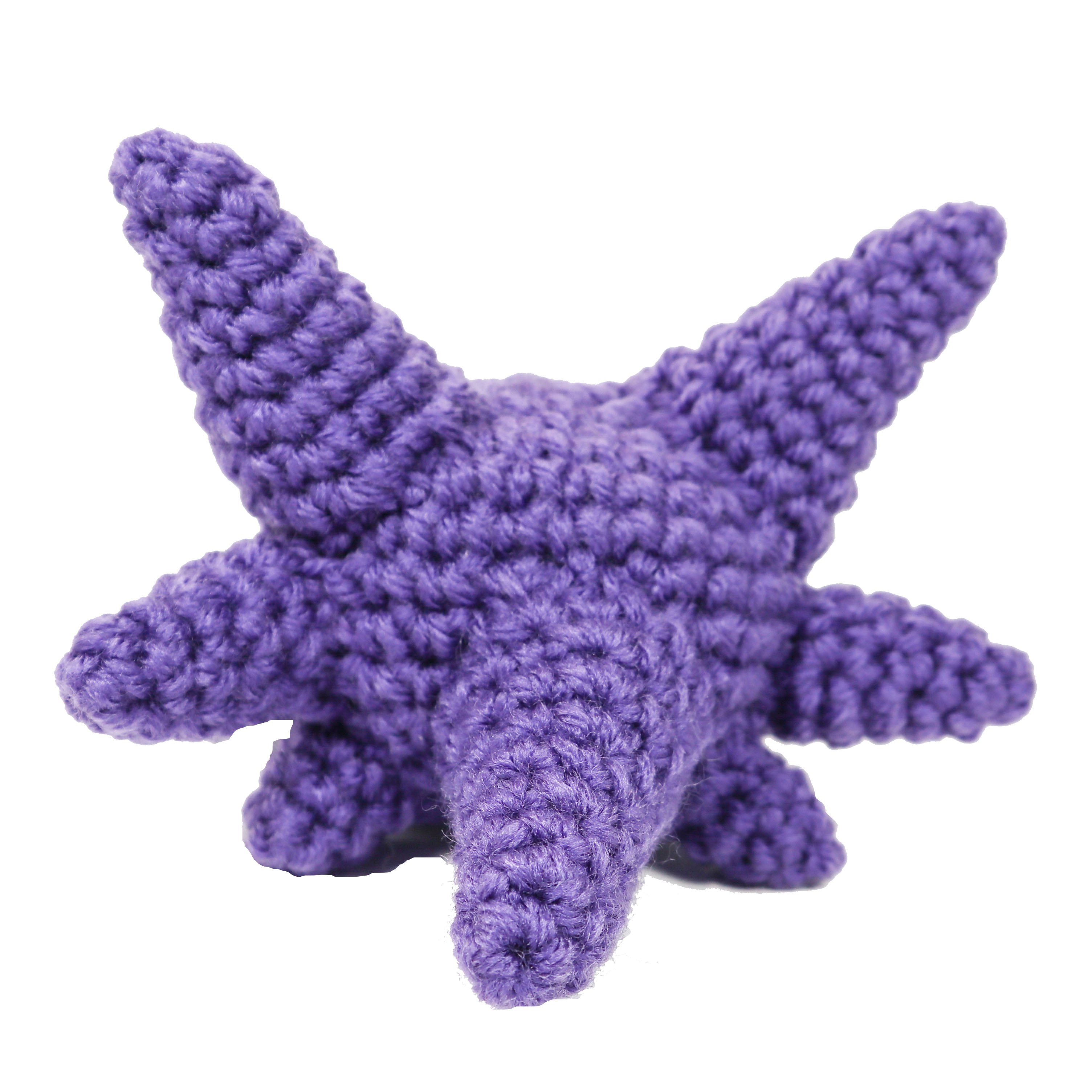 Medium Horns: Make 2 :
Repeat above R1-R6, then f/o and stuff
Small Horns: Make 2 :
Repeat above R1-R4, then f/o and stuff
Claws
Make 2. Using Purple, begin with each claw:
Ch 6, then working back along chain:
Sc 5 times
Repeat twice more to make 3 claws. Then working along the base of the claws to make the palm:
Sc 3, tch,
Sc 3, tch,
Sc 1, Dec, tch
Sc 2 and f/o leaving a long thread for attaching the hand to the body.
Refer to this video for clarification on how to make the claws:
Assembly
Attach of the large horns at the 'top' of the body almost in an 'ear-like' position. The 3rd large horn actually goes in the very back and bottom of the body like a 'tail.' Below the two large horns- attach the medium horns, and finally below these, attach the small horns. Attach the hands at the bottom/slightly underneath the body.
I hope you enjoy your Haunter Amigurumi!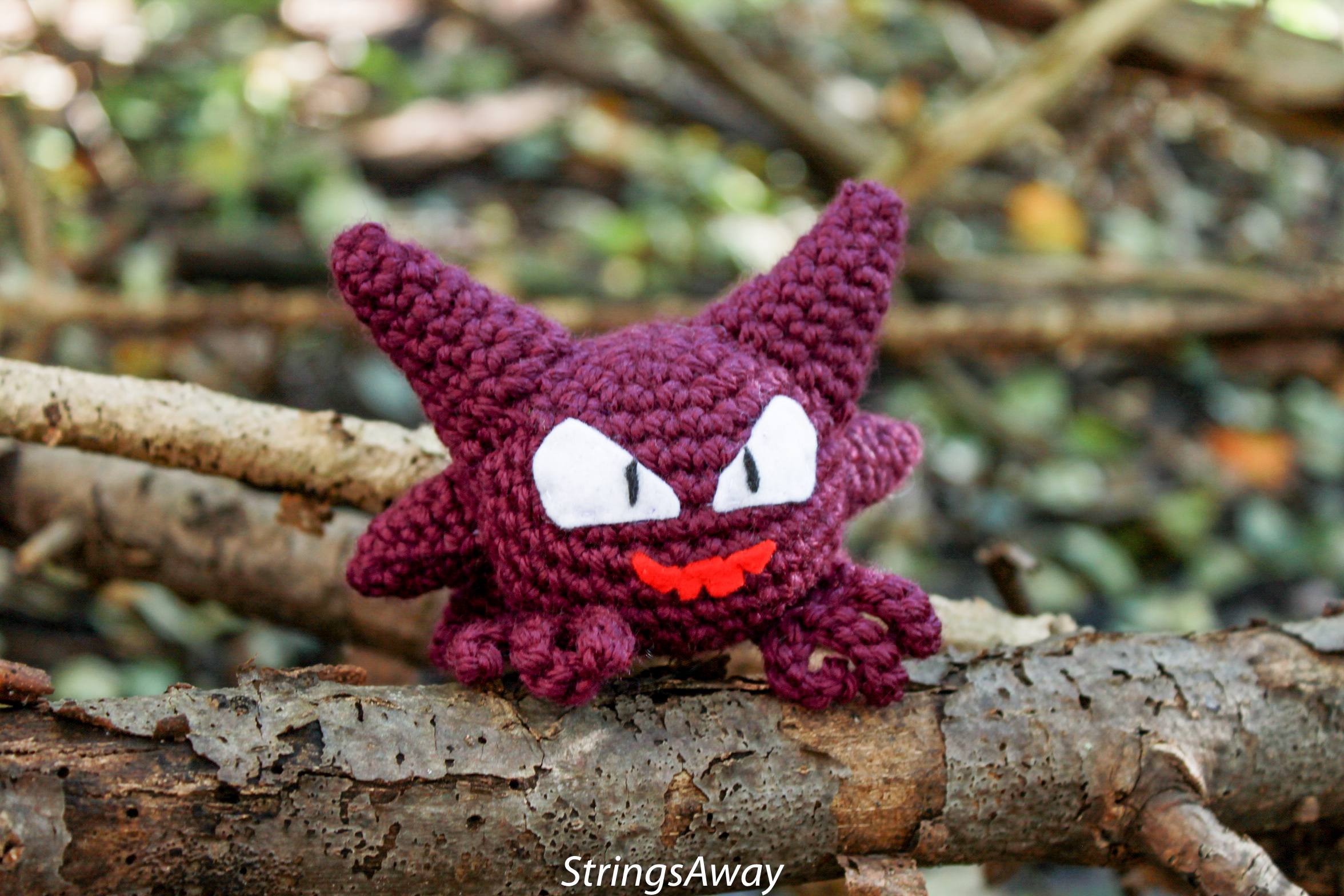 Thank you for trying this pattern – I hope you enjoy your Amigurumi Haunter!
This pattern by StringsAway is for personal use only. Please do not sell or redistribute the pattern as your own.