Last weekend I had the opportunity to attend a local Pokemon VGC (video game championship) hosted by the Waterloo Pokemon League as a Pokemon crochet craft vendor. Then venue was at Just By Chance Games – an amazing board game shop (with huge selection!) in North Waterloo, ON.
My Booth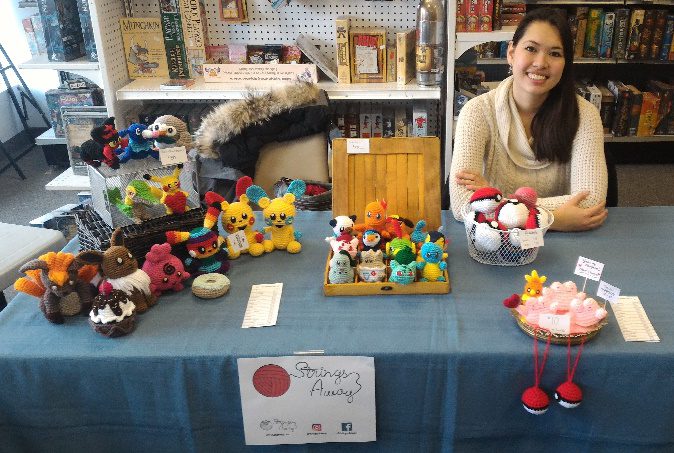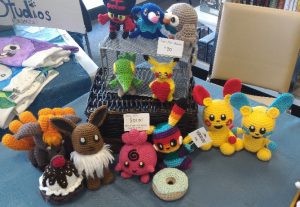 This was my first ever vendor experience and I think it went quite well! I was mostly surprised by the choices of Pokemon amigurumi that sparked the most interest – I had thought the 'popular choices' like Pikachu, Squirtle, Bulbasaur, and Charmander would steal the show – but in fact, I seemed to be selling everything but those four.
I guess when catering to true Pokemon players, something apart from mainstream Kanto crowd shows a bit more uniqueness, knowledge, and mastery of the Pokemon world.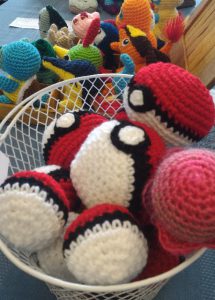 I arrived slightly before registration to set up in the vendors corner. Throughout the day the organizers were amazing- nice, friendly, and attentive. Players would quietly battle during rounds (while I crocheted the day away) and in-between rounds come by to check out our wares.
Although not everyone won a prize at the tournament, some treated themselves to a personal consolation prize in the form of my Pokemon amigurumi at the end of the day.
I especially LOVED meeting the kids competing in the tournament – I dare say they were my number 1 fans, helping me out with organizing the display appropriately (by Pokemon type, obviously) and showing lots of TLC to the plushies. I'm so happy that my little Pokemon could find homes where I know they'll be greatly appreciated!
Kitty Shark Studios
I also got to meet another vendor in attendance, Katie – of Kitty Shark Studios – who makes Pokemon pins, hand-drawn shirts, and my favorite – magnets made from Pokemon cards!
I loved these magnets and bought four of them for myself since my fridge is (was) completely bare. I especially couldn't resist buying the Spinda because it just looks so crazy. This is exactly how I feel some mornings as I reach into the fridge for coffee creamer and breakfast before a long day of work.
You can follow Katie on facebook at Kitty Shark Studios or find her booth next at the upcoming Furnal Equinox March 17-19 (Westin Harbor Castle).
What's Next?
At the end of the championships I was invited to return next month for the Spring League Cup on March 19 – (also being held at Just By Chance Games) and of course I accepted!
Time to get back to work crocheting Pokemon- hopefully I can bring some new crochet Pokemon to the table for the next tournament.