Everyone makes mistakes. But how many have you made playing Pokemon?
I will share with you my top 4, starting with Pokemon Silver.
Mistake #1:  Choosing Chikorita as a Starter
Chikorita evolves into Bayleaf, which then evolves into Meganium. Relying on a Meganium as your Pokemon team anchor is a mistake.
Did you know?

Meganium has the lowest base stats of all of the evolved Pokemon starters?
Technically, it is tied with Venusaur, except the speed and sp. attack are switched– meaning Meganium has THE lowest sp. attack (and attack) power out of ALL the evolved starters. Who cares if you are speedy and hit first but are too weak to do significant damage?
My tip for all of you Pokemon Gold and Pokemon Silver players is to NOT choose Chikorita as your starter!
I first chose Chikorita as a starter in Pokemon Silver because I was wary of the tough time I had starting with Charmander in generation 1. I swear I fought Brock at least ten times, slowly using ember on his Geodude and Onyx until I was a high enough level to win. I thought maybe this time I'll choose a grass Pokemon and have an easier time.
WRONG.
In Pokemon Silver the first two gyms are Flying and Bug types that are super effective against grass Pokemon. That's just plain pathetic!!! Then there's Whitney with her rolling-out Miltank, then ghost, fighting, and steel type gyms (which grass is also not effective against)…  I think once I made it to Pryce (Gym 7, Ice type) and realized grass is ALSO weak to ice, I just gave up and restarted the entire game with Cyndaquil. Since then I always just choose the fire starter.
If you're not familiar with Pokemon type effectiveness, you can consult the following chart: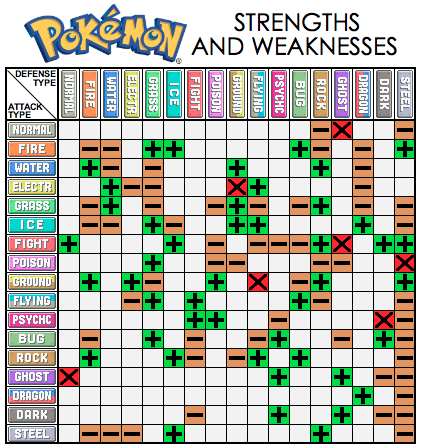 What Starter Pokemon Should You Choose?
Not grass. In total a grass lead team is either weak to or 'not very effective' against 5/8 of the Johto gyms, and also does not have any extra advantage at the remaining 3.
Now I agree that Chikorita is somehow both cute and weird looking at the same time, but for practical purposes, she is a terrible idea for game play if you want a strong Pokemon team.
Who do you think is the best starter Pokemon? Who do you think is the worst? Do you have any memorable game mistakes or your own Pokemon Silver tips?
Comment below!